We all know online marketing is increasing globally. Online store users are always having a question in their mind while building their online stores which ecommerce Platform/CMS is the best to use. We have various platforms /CMS in the business sector like Magento, Shopify, OsCommerce, Big Commerce, 3D cart,PrestaShop, ZenCart, AlegroCart, OsCmax, WordPress Ecommerce, VirtueMart ,Drupal Ecommerce etc.
CMS is a gathering of cutting edge web apparatuses to make, transfer and oversee online content. While most CMS programming incorporates web creation programs, the best CMS programming can make custom locales utilizing source code. This permits you to break free of unbending layouts and incorporate imperative eCommerce utilities, for example, point of sale,forms to help email, shopping cart and inventory management tools.
Today I am going to discuss about around couple of well known Ecommerce Platforms/CMS and their upsides and downsides.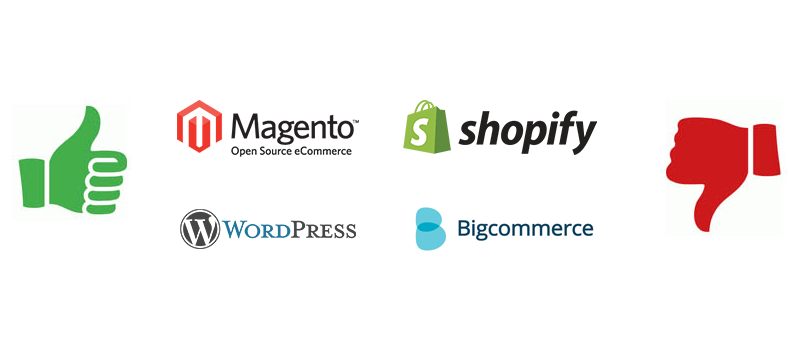 WordPress Pros:
WordPress is the world's most well known content management system. WordPress CMS is used by over 40% of sites. A variety of other features include:
Strength and adaptability both toward the back and front end.
Numerous Unique themes to choose from and each one are customisable to the last point.
Premium extensions can be added as and when you need, such as table rate shipping, product CSV Import Suite, bookings and others.
Get a host of free extensions such as delivery notes, Google Analytics, Custom Product Tabs Lite ,PDF Invoices and Packing Slips, etc.
WordPress menu management has extended functionalities for categories and its products
WordPress Cons:
An operation like removing a date field requires some understanding of PHP language.
Queries can be complex since all additional non-standard fields that make WordPress a CMS, require additional syntax.
Magento Pros:
multiple store ,mobile templates , payment gateway, easy layout changes .Magneto is most versatile E-Commerce CMS and famous among the user because of its incredible Features:
Includes large number of inbuilt features.
Very Effective in SEO.
It's an Opensource but certain features you need to buy.
It has flexible Marketing advertisement and Tools Source
Magento Cons:
It's complicated from a user/admin end.
Magento's speed performance is quite slow in single server.
Setting up and customizing Magento is quite  complicated
It's an Opensource but certain features you need to buy.
It has flexible Marketing advertisement and Tools Source
Big Commerce Pros:
BigCommerceis one of the outstanding ecommerce platforms for quickly developing organizations. Bigcommerce offers a comprehensive set of tools that are easy to work with.
It has free as well as paid templates.
Its user friendly and offers detail customization features
BigCommerce have custom pricing for advanced level businesses along with some packages.
BigCommerce is undoubtedly creating its mark with its un-parallel SEO-friendliness.
No Hassle Speed & Security
integrated marketing features
No transaction fees.
It is compatible with most mobile devices and tablets
Big Commerce Cons:
No built-in recurring billing system
To get the full benefits of Bigcommerce you have to buy it.
Shopify Pros:
Shopify is one of the best and robust when it comes to providing a complete eCommerce solution.
Lot of  eye catching responsive themes
70 payment gatewayoptions are provided
User and SEO friendly
It's cheap and easy to use
Having good app integrations with SaaS services
Security for  network 24/7 for any attacks
Shopify Cons:
it is not as customizable as open-source solutions
Shoipfy's ecommercedon't have features like email to a friend, and contact forms.
There is no one single best solution. It all depends on your needs .You need find the right mix of customization, theme, usability, hosting-performance, scalability, extensibility, costs, security etc. for selecting best Ecommerce CMS / platform to work on.